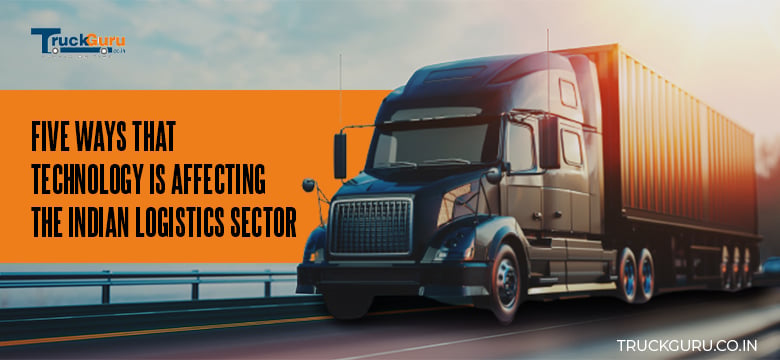 The nation's industrial innovation depends heavily on Logistics Companies. India is no exception from the rest of the world because it readily accepts technological improvements. Technology and logistics are two of the many sectors that are interconnected. The use of technology is significant everywhere. It influences our everyday life and has both beneficial and harmful consequences.
The logistics industry has changed in response to technology. The movement of commodities from producers, merchants, or wholesalers until they reach end consumers has changed due to modern business methods and developments. The transition from manual to automatic technologies, as well as advancements in communication and information technology, have significantly influenced the logistics sector.
New technology has made it simpler than ever to run a business and reach out to new audiences. The way we live, work & shop has undergone a significant change due to the internet. Additionally, it has made it simpler for companies to do direct sales to clients via online marketplaces. Indian logistics companies have experienced a sharp increase in demand for various services and business-to-consumer (B2C) transactions over the past several years. As per the World Bank, India is the seventh-largest market for logistics businesses and activities. The Indian Logistics Companies is now valued at $200 billion, with a predicted growth rate of 15% per year to $380 billion by 2025.
Changing landscape of Logistics Companies
As e-commerce has grown in popularity and rapid payment options like UPI have been available, more and more consumers are giving up their traditional physical shopping routines in favour of online purchasing. The change also comes along with this comfort. Change influences how logistics companies must adapt to be competitive. To stay competitive in the shifting marketplace, logistics businesses increasingly utilise cutting-edge technology that was not even accessible five years ago. Let's examine some of these modifications and how they affect Indian logistics businesses.
E-commerce marketplaces need Logistics Companies
Online product sales are now more straightforward than ever, thanks to the development of online marketplaces. The range of items accessible has increased as a result of the growth in the number of online marketplaces. Convenient logistical solutions are currently needed by an increasing number of small and medium-sized organisations. Modern logistics companies can help with it. Many businesses rely on tech-driven logistics businesses to get their goods to their clients.
Technology-driven transportation revolution
The introduction of new technology has significantly altered India's transportation industry. The desire for more sustainable, environmentally friendly, and clean transportation forms has brought about this development. The adoption of cutting-edge transportation technology is one of the most significant shifts taking place. The latest technology will make logistics company transit safer and less prone to human mistakes. Accidents, pollutants, and fuel consumption have all significantly decreased because of technology like improved fleet management. This has significantly simplified the work of Transportation Company In India.
Internet of Things (IoT)
Businesses in various industries are impacted by the Internet of Things (IoT). Due to IoT-enabled technology, the logistics sector has also seen substantial changes. IoT may be used to monitor the temperature and location of items. Businesses may install sensors in their trucks to track their whereabouts. Businesses may use IoT to monitor the temperature and location of items being moved in trucks. IoT may also be used to monitor the state of the products and how well they have been handled. This can assist Logistics Companies in managing inventory levels and optimising their processes. This resulted in significant cost reductions, increased effectiveness, better customer service, and even quicker decision-making.
Road and rail infrastructure improving
The upgraded road and rail infrastructure has been extremely beneficial to Logistics Companies. It's also thrilling to see smart cities' growth and transportation systems. Due to recent developments, courier services may now use more automated and connected transportation networks. The increased use of sensor and IoT technologies has increased the automation and connectivity of transportation networks. A smoother traffic flow and improved traffic management have been made possible by upgraded infrastructure. The work of logistical businesses has become safer and more effective.
Online payment ecosystem in India
There is little confusion that the rise of digital payments has contributed to the surge in e-commerce. A rapid rise in internet sales has caused the sector to expand at a 200% average yearly pace. With a projected CAGR of 13% over the next five years, online transactions are predicted to increase further in the years to come. There is a demand for logistical solutions due to the explosive rise of online transactions and the popularity of smartphones as mass-market devices. TruckGuru and other tech-driven Transportation Company In India fill this need. Online payments have grown more practical and simple as more individuals use smartphones and electronic wallets. More and more businesses are selling their items online, and for their products to reach their customers, they require logistic providers.
Logistic businesses must consider implementing these technologies into their current supply chain processes. The logistics industry is anticipated to be significantly impacted by these technologies.
About TruckGuru
TruckGuru has cutting-edge tools, technologies, and knowledge that allow us to provide our clients with essential supply chain and transportation solutions. We guarantee that companies will receive excellent quality, quick, and secure transportation services no matter the time limitation, the heavy load issue, or any other connected issue. Being the leading provider of logistics services, we think that people, technology, infrastructure, and knowledge all contribute to the success of a Transportation Company In India; as a result, we are now delivering the proper combination of all these.