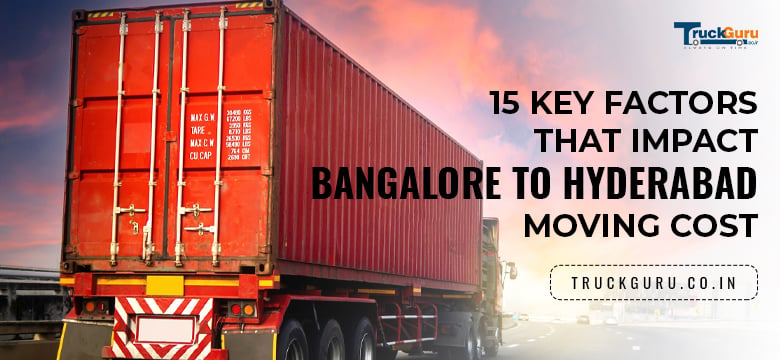 The cost that movers and packers charge frequently fluctuates based on the number of goods, the distance, the degree of habitation, etc. These costs are unique to domestic and local moves.
Volume Of Goods
In the end, other factors like the truck's size, the number of people required, etc., will depend on how many products you have. For local and international relocation, the weight of the goods is crucial. Sorting your unwanted goods will help you reduce the number of moving objects.
Type of Move
Whether you are moving locally, between cities, or within the nation, your move will influence the expenses of the service as the mode of transportation, as well as the tolls, insurance, fuel, and other taxes you must pay, will vary on the sort of service.
Floors at Origin and Destination Points
If you live on the ground floor, the costs are reasonable, but if you reside on the first floor or above, you can see a rise in fees because loading or unloading the products is more difficult.
Lift Availability
The costs will be relatively inexpensive if you live on the first or second floor of a building without a lift, but if you live on the second story or above, the costs might increase since more work is needed.
Move During Month-End or Mid-Month/Weekend or Weekdays
A significant factor that may affect the cost is when you consider relocating, such as at month's end or amid the month, and on weekends or weekdays. Before making a significant decision like relocating, thoroughly weigh your choices. We should caution that movers are typically busy during these periods and may charge you more than normal if you want to move over the weekend or toward the end of the month.
Packing Quality
The quality you choose will affect the cost of packaging. If you choose Premium Packing, multi-layer packing using materials such as fiberboard boxes, corrugated sheets, edge guards, bubble wraps, etc., will be carried out. Nevertheless, the prices will be higher than with Economic Packing (standard quality packing will be done).
Tolls and Taxes
The vehicle must pay taxes and tolls for each pass and border it passes when travelling between cities. Depending on the city and the mode of transportation, these taxes and tolls vary. Some states also charge octroi fees.
Vehicle Type
Your choice of vehicle type has an impact on pricing variation as well. You have two choices if you need to go a small distance: either use a shared vehicle, which won't cost much but will take some time because it is carrying the belongings of two to three homes, or hire a dedicated vehicle, which won't take as long but will cost more. The size of your car depends on how many goods you have. The charges may range from what follows, depending on the kind of vehicle you choose:
Dedicated Vehicle: Your entire order will be delivered in a single vehicle, which will speed up delivery but come at a greater cost.
Shared Truck: Because the truck will also be transporting the goods of two to three other people, the cost will be lower, but the delivery time will be longer.
Distance
The farther the distance your belongings must travel, the more expensive your move will be. One of the most important factors that might impact the price is the distance between the starting location and the end destination. Since more petrol will be used and more taxes and tolls will need to be paid, it goes without saying that expenses will rise as distance increases.
Brand Value
The fourth and most crucial element is brand value. Numerous well-known companies provide outstanding services, but they also charge a lot because of their fame, with prices rising between 30% and 40%. As a result, this will now be the primary factor in determining the price of your moving service.
Labourers Required
How many staff you need will depend on how many goods there are. You'll need at least 2-3 people, 3-4 guys, and 5-6 guys, respectively, for a 1 BHK, 2 BHK, or 3 BHK. You will be charged based on how many labourers you hire and how many hours they put in.
Physical Effort
Because the labourers must exert more physical effort, such as using roping techniques to move large or bulky items, etc., the amount of physical labour required is a cost-affecting factor; it depends on factors like the living floor, the distance from the door to the truck, the accessibility of elevators, etc.
Additional Services
For an additional cost, inter-city moving services, like unpacking, reassembly, etc., will be provided upon your request. If you need storage or insurance, you will be charged properly.
Demand For Location
Depending on the demand in the city you are relocating to, moving costs may go up or down. Moving from one major city to another, such as Bangalore to Hyderabad, will be less expensive than doing so in a small town (Hubli to Hosur).
Household Goods
You merely need to be aware of the quantity and variety of household goods. If there are more household goods than packaging materials, the price will increase in addition to the need for more labour and larger delivery trucks
FINAL WORD
Moving has a lot of implications. Therefore it shouldn't be done lightly. It is crucial to consider all the factors that impact costs while making changes, whether locally or domestically. A variety of different factors influence the price of relocating. You can only get accurate cost estimates once the Packers and Movers have conducted a pre-shift survey. Buyers should get pricing estimates from at least 3-5 local moving companies when seeking packers at fair costs. This will enable you to contrast and evaluate the numerous price quotes and choose the service that best suits your requirements and price range.