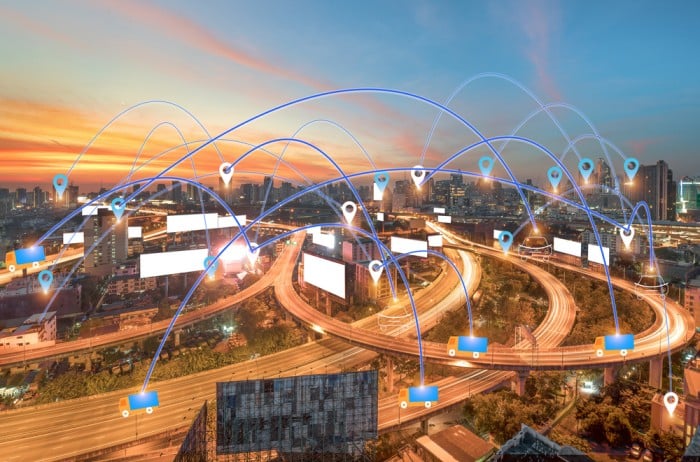 The logistics industry in India is highly fragmented.
Records show that about 14% of the total GDP comes from this niche of business.
With millions of people working for the logistics companies in India, and accounting for several government and quasi-government bodies being involved, it should become apparent that the government needs to bring about some changes.
By modernising how logistic companies work, their operational costs may reduce, and several other aspects such as speed, transparency, and efficiency may enhance.
A circular published by Automotive Industry Standard 140 (AIS 140) states that it is now mandatory for both the Original Equipment Manufacturer (OEM) and after-market public utility and commercial vehicles to install GPS (Global Positioning System).
GPS, essential for all logistics companies in India, works through a GPS chip. The location data that this tip produces is then transferred by a GPRS (General Packet Radio Service) SIM card. These cards are known as the machine-to-machine kind, unlike the customer-to-customer SIM cards we use are obtained from MNOs (Mobile Network Operators). It is on these cards that the end-users and GPS service providers depend on for proper availability of the network.
The intention behind taking the said step was to enhance operational control. Problems like delays, pilferage, deviations, and adulterations need to come to a standstill for a better working profile.
The supply chain industry in several other countries, who had begun using GPS about two decades ago, has seen positive changes in the efficiency of operations.
As of today, the Indian government is beginning its journey toward ensuring that they ensure that GPS becomes a norm in the locomotive industry, among transport services in Vadodara, Mumbai, Chennai, and every other state of the country.
Doing so is going to be a challenge for the government.
They are going to have to convince the users and suppliers of GPS that it is more than a product; it is a service that they need.
Users want economical and mediocrely technical GPS from the suppliers, that may end up doing less than its job requirement. Now, at the end of the day, such devices are bound to fail. Neither are they made to meet the user's needs nor have they been appropriately configured.
The result? Another technological innovation is considered to be a failure.
Now, this does not really hold. That being said, there are issues that need to be addressed.
Indian manufacturers do not have access to devise level software or firmware, crucial to ensure that GPS runs packers and movers smoothly in Bangalore and other locations. Once the government intervened, it made sure that every device was now to be made in India and that it should comply with AIS 140.
Contrary to the first issue, the second one can be seen in the need for both users and manufacturers to spend less and gain higher profits, respectively. It is because of situations like these that the credibility of the project may diminish.
According to the Transport Ministry of India, each truck that runs on the road will have to have a unique device installed which can be tracked. Instead of using the hard tag method and tagging the GPS's IMEI (International Mobile Equipment Identity) number to the number associated with the vehicle registration, that a dual profile-embedded Subscriber Identification Module (SIM) card be hard-tagged to this vehicle registration number.
All logistics companies in Chennai and in the nation will be required to install GPS.
For all of the dual profile-embedded SIMs that have been made mandatory by AIS 140, the embedded chip comes with two numbers that have been pre burned to ensure that no matter what the data transfer does not stop. This can happen if a certain MNOs network strength falters; the other MNO can pick up its slack.
A third-party integrator is responsible for managing the MNO and the data transfer process, who is not a part of the team of the GPS service provider and MNO.
Here's where the problem arises.
The third-party integrator is going to be a component vendor who will not be held accountable for the failure of the device or the SIM card. This would give integrators the freedom to run a profitable business with the dual profile-embedded SIMs since they won't be asked to pay penalties due to the card failing to perform as it should. Besides that, they will be required to pay the first-year subscription fees and the cost of the SIM once.
But wait, if you are looking for movers and packers in Chennai, especially someone you can trust, then check us out.
Coming back on topic, the second problem that needs to be accounted for is that the customers shall not have the right to switch from one MNO to another if they find that the performance is not at par.
The telecom sector promotes tenet of choice around the world, and in India, it would seem as though that is not being fulfilled.
Such an initiative, although carried out with the right intentions, may spread chaos in the market. After the failed attempt of 2017, vehicle owners and end-users have been protesting to lift the mandate on being penalised for the performance of the device.
That being said, if MNOs and GPS manufacturers were to agree on what the goal of the government of India is in terms of SIM cards, then this initiative would bring about a change in the entire industry, not just the logistics companies in Chennai.
If government agencies were to join forces with GPS manufacturers and integrators who have been involved in the success of said projects, then they would see positive results and bring about a wave of enhancement in the logistics industry.
TuckGuru understands the importance of evaluating a situation and cause before implementation, which is what makes us one of the leading vehicle transport companies in Vadodara deploying modern technologies that facilitate deliveries. We have been working in the logistics industry for about ten years. We have developed an advanced mobile app and web portal for cargo transportation businesses. We know how to make your deliveries quick, efficient and cost-effective.