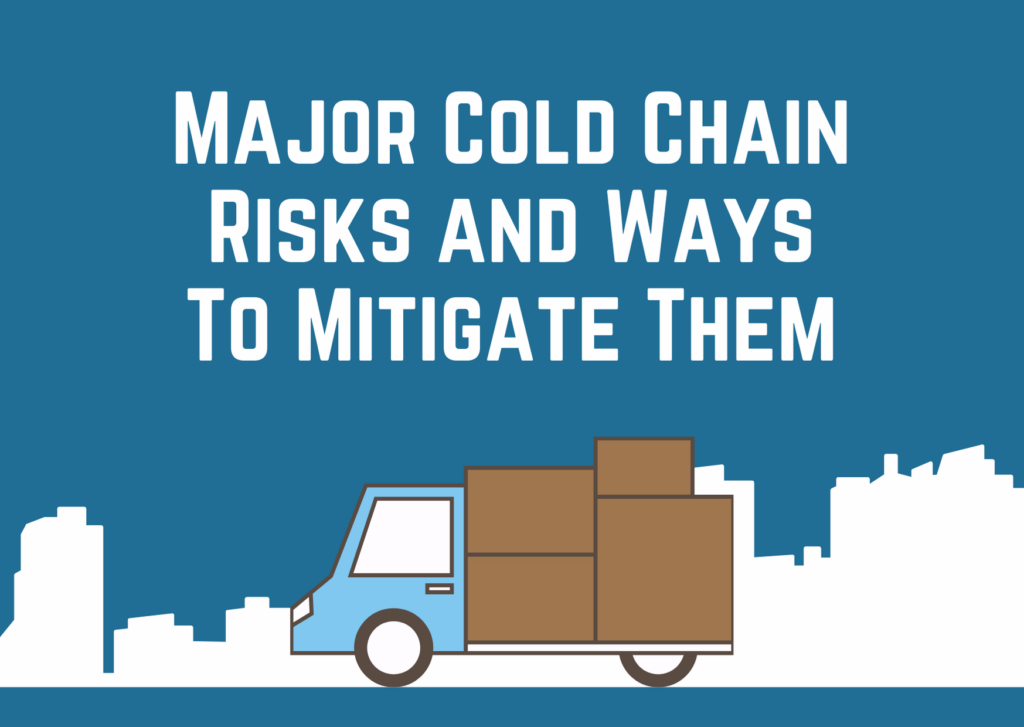 Businesses around the world are trying hard to developing trustworthy cold chains to ensure that the products such as fresh vegetables, frozen food items or life-saving medicines and vaccines always reach the destination in good and safe conditions. With its costly equipment and strict temperature needs, the cold chain has always been a challenging segment in logistics.
The cold chain logistic faces issues that affect the whole supply chain. Serving the global market, becoming more calculated, driving out costs, and focussing capacity and resource restraints are few major risks faced by this sector. Each year, over one-third of the world's food gets wasted because of poor temperature control techniques during transportation. Apart from the common suspects such as human error or defective hardware, key unforeseen incidents like worker strikes, viruses or contamination panics could weaken the cold chain and result in logistics problems.
The key risks in cold chains faced by truckers during transit are described below. Have a look-
1. Lack of Uniform Infrastructure
Infrastructure, technology and cold chain standards differs around the world. This is boosting the problems for individuals running global operations to ensure end-to-end integrity. The problems such as lack of appropriate cooling options, non-uniform cooling standards across midway storage warehouses, and temperature-controlled warehouses become the major cold chain challenges to deliver the food items safely.
2. Cost Efficiencies in Cold Chain Management
The cold chain has also witnessed advances in technology in recent years, but despite that, the most reliable solutions in cold chain logistics India aren't easily available. One simple reason behind this is the cost. Most of the time, the companies and their transporters agree with what is just enough. This clearly means that the risk of failure of equipment and the needed amount of human effort in the cold chain is high.
3. Human Error in Cold Chain Management
Some of the typical reasons for cold chain logistic failure are careless staff, inadequate training, non-compliance with set protocols and incompetent use of equipment. The most common human errors are-
Poor practices- During last-mile deliveries, leaving the refrigerator door open.
Poor handling — Haphazard handling can damage the container.
Poor Documentation —Can cause unnecessary delays in delivery and other logistics problems.
4. Supplier Risk in Your Cold Chain Management
You must have heard the old proverb "Well begun is half done". Well, the contrary is also true equally, and it's a bitter truth for logistics staff. Many things could go wrong even before the refrigerated items have even started its journey. The errors might be the poor quality raw materials especially in the food and fresh produce space, sometimes damaged goods are packaged before they are tested for quality or decay. In many cases, doubtful relationships with suppliers could lead to goods damaging due to bad handling.
5. Bad Packaging Practices in Cold Chain
The businesses involved in cold chain logistics India should keep in mind that the packing process at the initial stage of shipment needs to be done in a temperature-controlled environment to avoid temperature issues at the earliest stage of the transportation. With the proper packaging and shipment conditioning from the beginning, it will be easier to avoid temperature excursions.
6. Security Risk in Cold Chain Management
Security for temperature-sensitive products is more significant than general goods. For instance, pharmaceutical drugs or temperature-sensitive injections, re-enter the supply chain after being stolen…. just imagine the consequences. Packers and Movers Vadodara believe that poor security measures could affect the supply chain's integrity, escalating the chances of damage to the temperature-controlled shipment. The final cost of such compromised food items or contaminated drugs re-entering the supply chain can increase the danger to human life which cannot be quantified.
7. Risk of Retailer in Your Cold Chain
Apart from the most common human handling error during the transportation or delivery process, the retailers' product handling also affects the quality of temperature controlled items like food or vaccines. The way their staff manages the preservation and safety of the items as well as the measures they adopt to reduce wastage, everything ultimately affects quality. The poor knowledge about the cold chain best-techniques can increase the risks for the quality of temperature-sensitive items.
8. Customer Demand Risk in the Cold Chain Logistics
The sudden changes in customer demand also affect the slow-moving supply chain because it is hard to cope with the unpredictability created due to this. For instance, it's difficult to redirect a cold chain consignment to an area where the demand has fallen because there are contamination fears. This can result in spoilage and financial impact unless the cold chain integrity of the products is noticeable and you are aware of which item was exposed.
Besides financial impact, supply chain risk increases due to poor links in a cold chain that can raise concerns regarding product quality. This results in major losses due to goods spoilage during transportation that could further result in more terrible consequences like the loss of life, loss of market share, or worse. Therefore, Packers and Movers Ahmedabad understand that it is important to assess the operations to decrease, if not completely eliminate these risks in cold chain logistics.
Ways to Reduce the Risks in Cold Chain Management
Being a shipper, you need to ensure that your cold chain runs successfully with the minimum adverse incidents. It's no secret that assurance of the cold chain will cost you, but you can manage your cold chain efficiently at the same time mitigating the risks. There are many logistics management tips for dealing with unforeseen challenges as well as a robust risk management strategy supported by strict processes and technologies.
Choose The Right Courier or Supplier
It is important that the supplier you choose should be specialized in cold chain logistics. Experienced couriers such as Hyderabad transport should have an established relationship with top airlines and profound knowledge of each carrier's SOPs. Choosing the right courier company can best accommodate shippers' transit time and temperature-sensitive items are a major step towards a successful cold chain.
Know The Proper Rules and Regulations
The regulatory environment can vary from state to state or country to country. Only an experienced courier company offering transport services in Vadodara and other cities also has in-depth knowledge of these regulations and customs, so they will be able to move your shipments smoothly and successfully. Working closely with your courier company will enable you to plan around these changes to minimize the impact on the cold logistics process.
Right Documentation
Knowing and understanding what import and export paperwork is needed will help you to run your cold chain smoothly. For this, you need to work closely with your logistics department or transportation company. Right paperwork before shipping locally or internationally will help you avoid customs delays.
Proper Packaging
Outside temperature and time are the two major factors affecting the integrity of your cold chain commodities. Opt for the right or validated packaging system and material that is designed to maintain the particular temperature ranges as well as the proper temperature monitoring. Dents and tears can halt the shipping process. You can hire the trained staff to package the shipment correctly.