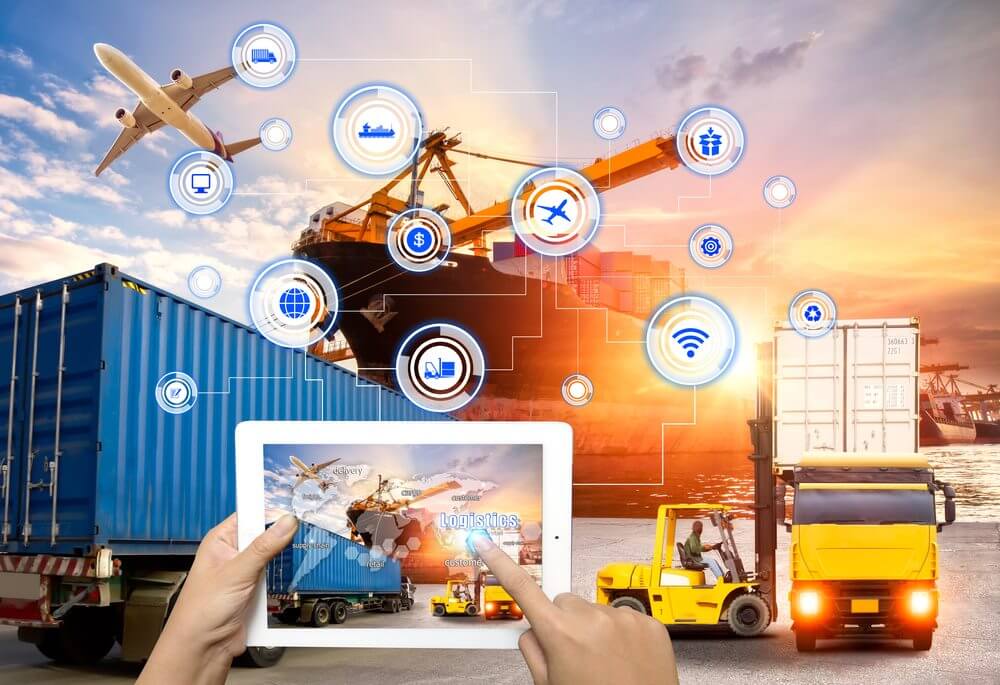 You must have heard of blockchain in the context of cryptocurrency such as Bitcoin which has been the buzz over the recent few years. As blockchain is a new term in the transport industry, let's define it before diving into how it affects freight transportation and supply chain. Basically, blockchain is a database and collection of records. It stores the records of values as well as transactions in a completely secure and permanent database. By storing the records of contracts, blockchain could reflect a world in which transporters can seize each part of a transaction in a digital record. Hyderabad transport companies as well as other logistics companies across the industry, are realizing that they can implement blockchain technology to modernize and streamline their functions and offer better service to their customers.
Blockchain can efficiently track, store, verify, and share all facets of every transaction. It helps to take a standard written agreement to the subsequent level by combining all aspects of the transaction into a single system. This integration into one database will eradicate the sequence of steps of a transaction.
Many online truck booking businesses recognize that supply chain management is crucial to their success. After all, if one cannot get their inventory where it is required – as quickly as possible – it could be in trouble. Logistics companies in Chennai want to streamline their transport process and supply chain management as much as possible for their maximum efficiency. Interestingly, blockchain technology can be quite helpful in this area.
Instead of thinking of blockchain in terms of cryptocurrencies such Bitcoin, it's time to pay attention to its other important applications. However, the currencies which are based on blockchain technology offer their own benefits, few of us consider other applications for those advanced development.
Blockchain Technology is perfect for the Supply Chain Management!
Blockchain technology is nothing but all about the shared public general ledger. This is how it becomes perfect for the supply chain management. You can read about how blockchain works perfectly when it comes to the supply chain in a fresh article published in Harvard Business Review. Lack of transparency is one of the major difficulties experienced by the companies in Hyderabad transport with intricated supply chains. Sometimes, if you have different suppliers across multiple states as well as countries, it can be difficult to keep track of everything.
Identifying the issues can be tough because of all the moving parts. But in such situations, the technology like blockchain can shine, as per the Harvard Business Review article. As the transactions are stored and tracked using this technology, it makes everything happening in real-time. By using blockchain, online truck booking companies can monitor transactions with transparency. They get updates and see what's happening in every step of the process.
All the members of the network can see what is happening. Moreover, blockchain helps to keep all those involved liable for their end of the bargain. Thus, it's a great way to get the whole picture clear, and also, to access the data to understand the individual aspects of the supply chain.
Blockchain Supply Management and smart contracts!
One of the key reasons blockchain technology is helpful for supply chain management is related to the fact that smart agreements are a crucial part of the system. As explained above, there are many important business applications for blockchain technology. The use of smart contracts is one of those applications. By using smart contracts, all the involved parties can see the agreement terms. Above all, the contracts implement themselves. If the signatories want to move ahead, certain expectations have to be met. When the parties meet those expectations, the agreements can be completed.
The role of blockchain in freight and transportation!
What does blockchain means for freight transportation? Here are some of the major benefits of blockchain for entire supply chain and freight transportation. Have a look-
Theft protection and fraud detection:
Blockchain transactions are greatly noticeable to every member on the network. These transactions can't be modified, thus, eliminating the chances of fraud. Blockchain also contains information on ID photos and has rules for pickup and delivery. Logistics companies in Hyderabad transport analyses that it creates a strong theft deterrent.
Payments and pricing:
The database recorded in blockchain makes payment processing and information easily accessible. This enables the online truck booking companies to easily access significant payment records to regulate the prices.
ELDs (Electronic Logging Devices):
ELDs provides ample benefits in logistics. Additionally, they could stream data to the blockchain, enabling for real-time rerouting when incorporated with weather or traffic data.
Capacity monitoring:
By using ELDs, the facility to stream information clearly will bring a huge advantage in capacity monitoring. As capacity can alter during the day, blockchain will enable all the participants to notice and work with shifting capacity needs in real time.
Vehicle maintenance and performance history:
With all related transaction metrics in the blockchain, any participant and logistics companies in Delhi can see evidence of previous performance. In the same manner, with vehicle maintenance, blockchain can keep all the records instead of just one person keeping all these records.
Are companies prepared for blockchain supply chain management?
As the blockchain technology is new, there is some resistance to this adoption. In the end, this is a public ledger. It means that some companies would have to be ready to let others get a look at what's happening. It's possible for companies in Hyderabad transport to use blockchain to establish a private ledger. You still can make smart contracts and have access to the information, but the distribution is restricted. You only can send it to the interested parties.
Why TruckGuru has opted for blockchain technology?
TruckGuru, a top online truck booking company in India, has realized the benefits of blockchain technology. To streamline their businesses operations and to keep the record of the transactions, they have adopted the blockchain technology. It has proved a great help to improve their supply chain. There are so much that can be done faster and securely using blockchain to improve your business operations and that is why TruckGuru has adopted blockchain technology.