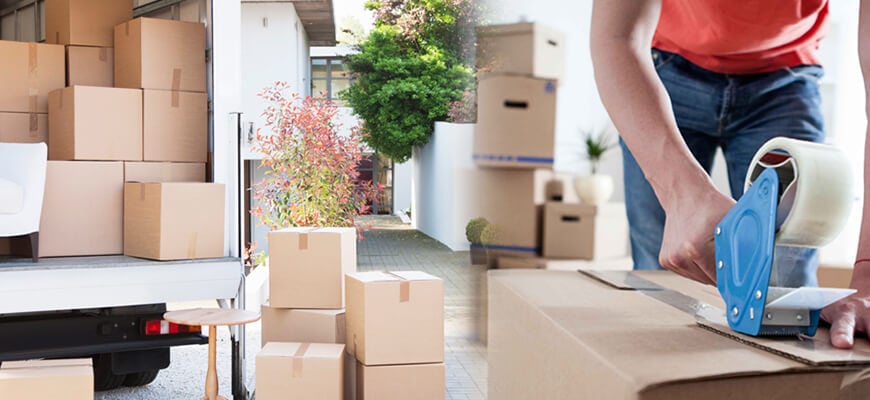 Over the past few years, the moving industry has seen tremendous growth because of the increased demand for moving services. There has been a rise in the number of packing and moving service providers all across the country. Hiring a packing and moving company is just a phone call away. But, it is also true that you can easily get scammed by fake moving companies. The chaos in the moving industry has made it difficult for consumers to find trusted and genuine Packers and Movers in Mumbai as well as in other cities for home or office shifting.
It is important to check the credibility of a Packers and Movers service provider before awarding a relocation assignment to them. But how to do that…. don't worry…this blog will help you.
Know the process in detail!
Packers and Movers firms mostly hire trucks from the transporters or truck owners in the market for transportation of goods. They don't use the whole truck to move just a few of your products. So, essentially that introduces a third-party into the picture. Top Packers and Movers Vadodara explain to you the cost involved in hiring both full truckload and partial truckload.
Moving process is not just about understanding the cost but there are other things too like how the goods will be packed, loaded and unloaded. Are they sending their personnel in the truck to load the goods or the customers will arrange the labor for unloading? Who will be the contact person at the destination? Can they start unloading once they reach the destination or should they wait for you to reach there? What is the process of claiming insurance in case of any damage to your goods?
Once you know the process, it's time to choose the right Packers and Movers company. But how will you decide whether to go with it or not? To help you make the right choice, we've put together a list of the most common issues people experience when hiring Packers and Movers in Mumbai and how to deal with it.
Are they licensed?
This is one of the most important things to know about their credibility. Often people discover that the moving company with whom they are making the contract is not licensed. How one can trust the company that doesn't have a license to operate their business? Before you hire a moving company in Pune transport, always make sure that they're licensed. When moving to a new city, you are handing over all your precious household things to them. So, don't trust someone just because you found them on the internet. Perform the research well.
Physical verification is important!
When you are hiring Packers and Movers services, this is one of the most essential checks that one should do. You can't just trust what the moving company is speaking about them. Visit their office, take a good look at the trucks they are going to use to move your goods. Before you take the final call about making the contract with a movers and packers company, check their storage facility too.
When you go to their office, ask for actual papers that could help them to show that are genuine and reliable. Some of the key documents that one can verify are the company registration no, Municipal/Trade license, PAN Card in the name of the company, and Service tax registration no.
Check their website!
Do you think a moving company that doesn't care enough to invest in their website, can be careful while transporting your goods from one place to another? There are several Packers and Movers companies in Mumbai that have their websites, but it is important to check whether it is genuine with meaningful and informative content or just look like a rainbow and have a rubbish design. No one should trust the company when nothing is on their website that explains their services and experience.
Customer testimonials on their website!
One of the ideal ways to judge a moving company is a customer testimonial. The customers who have used their moving services in the past will appreciate the team and say good things about them. If you find any such testimonial about them on their website, you can rely on them. Testimonials are vital because they give you a fair idea of the level of service you will be getting by choosing them.
Are they experienced?
Before signing the contract with the moving company, check whether they have any experience in handling the move similar to you. If a moving company in Pune transport is new, but has good reviews and has efficiently managed the moves like yours, you can trust them. The customers who are planning to move to a distant city from the current location and the company they are hiring is experienced in only moving within the same city, you should think twice. Moves within the city are not about moving your goods from one place to another but many other things too. Moving process is as it is very tiring and daunting, so why make it worse by hiring an inexperienced moving company.
Their payment terms!
When a Packers and Movers company ask you to make complete payments by cash and that too in advance, you should understand that there is something wrong. When you are dealing with professional Packers and Movers Vadodara, why would you pay the whole amount at once? Usually, some advance payment should be made to the moving company because they have to procure packing materials, hire labor, etc., but it is not necessary to pay that amount in cash. Customers should insist on paying by cheque. When you are in a hurry, payments by cheque may not be an option.
Online reviews about the moving company!
Check the websites of Packers and Movers in Mumbai to read online reviews posted by their past customers. By doing so, you can have an idea about whether the customers are happy or dissatisfied. Do they have more positive reviews? Are customers complaining about their loss, damage, delayed delivery and poor response from the company? Too many negative reviews signify that you should look for some other company. Furthermore, it is also important to notice how they respond to negative feedback. Have they offered to help after the complaint? Or simply they passed the blame on the customer? If they don't reply, then also it is not a good sign.
Online behavior is a direct reflection of the kind of services a company provides offline, but many companies don't realize this. If they are trustworthy and doing a good job, they surely have a good online reputation.
Responsibilities and roles of Packers and Movers
The professional and reliable Packers and Movers companies understand their roles and responsibilities well. They perform their job keeping in mind their responsibilities towards the customers' goods.
See below to have a clear understanding of their roles and responsibility-
Once you hire them, they will send a dedicated team of packers at your home. This team will include experts to pack, load and move your goods.
Packers and Movers Vadodara provide you with a written assurance of on-time delivery. This will help the client in case of delayed delivery to claim for losses.
Professional moving companies provide you with insurance coverage for your goods at some cost. The insurance covers any damage or loss of the belonging in an unexpected circumstance. Once insured, you will be compensated in case of any mishap.
Moving companies explain their loss and damage policy before making any contract which aid you to decide on hiring their services or not.
It is their responsibility to ensure you are around when the goods are being packed, weighed and loaded.
Packers and Movers in Mumbai will have to inform the client in advance regarding the time they will come. They should also share the name, contact details and other necessary information about the team with the client. Once they reach you, check their identity cards without fail and cross-check with the information you were provided with.
It is the responsibility of the moving service provider to keep you informed about the current location of your goods.
A professional moving company should give various payment options including cash, cheque, mobile wallets, debit/credit card, etc.
Hiring an expert means you are paying for it. It is worth investing some time to do a background check of the potential moving companies before signing the contract with them. This industry is too unpredictable and there is a lack of rules and regulations. So be aware, stay informed and make a wise decision on hiring moving companies.
About TruckGuru
TruckGuru one of the leading and most trusted Packers and Movers in Mumbai. Hundreds of families and commercial businesses just like you have moved with them. TruckGuru understands that when you are planning to relocate to a new place, there is already huge stress as you have to keep on figuring out what to do and what not to. So, don't take any chance to add another reason to get stressed. Trust TruckGuru and don't bother about the safety and on-time delivery of your belongings.