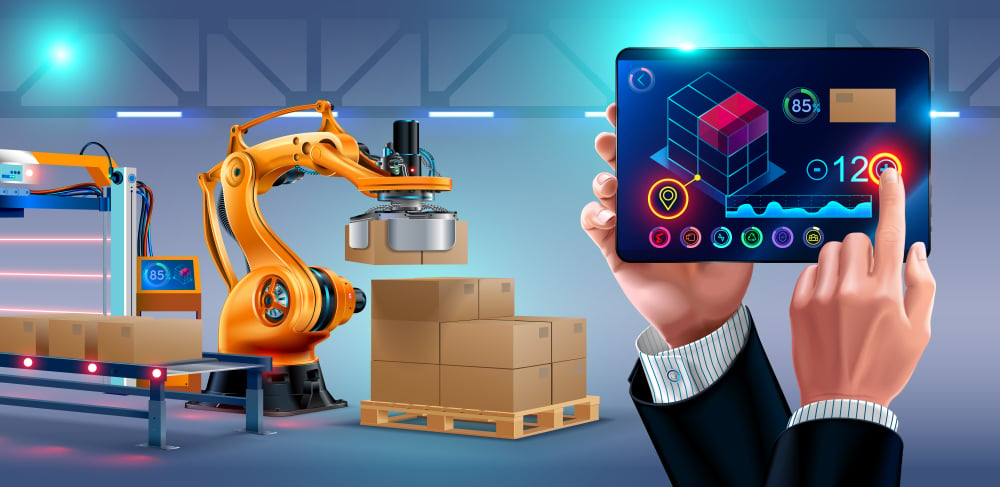 Whether it is about warehouse operations, inventory management or fleet monitoring, the Logistics Service Providers (LSPs) have faced many issues and they always tried to figure out this. Trying to develop more customer-centirc services, a greater level of quality and precision along with automation, the logistics industry is looking to adapt advanced technologies and digitalization to connect, increase profits, improve fleet management and achieve a greater share of the business world.
With the arrival of advanced technologies, in all sectors, the transport, logistics, online truck booking and fleet management sectors are surely amongst the top beneficiaries to witness drastic transformation in their operations. No matter what the industry is, IoT has left its footprint on the entire supply chain, from raw materials to outbound or inbound transportation, distribution, warehousing and production.
In today's business world, many new trends have been introduced in the market but the Internet of Things (IoT) and mobile technologies are proved to be the most innovative and beneficial for businesses across all the industries. Enterprises that offer online transport service can boost productivity and profitability with solutions such as online portal and mobile apps, designed specifically for their processes and interests. By using the right IoT solution and technology at the right time, companies can easily and quickly connect with all the devices across an integrated cloud network. They can gain real-time visibility of their ongoing and forecasted operations by capturing and sharing their process-critical data.
Enterprises engaged in transportation and logistics management are spreading their horizons on big data, agility services, and the Internet of Things (IoT) to automate their services along with cloud-based applications and process management too.
IoT – Internet of Things
In the transport and logistics sectors, the Internet of Things (IoT) is delivering highly integrated and efficient transportation and warehouse management solutions. Installed sensors in transport vehicles will continuously capture, share and process data that can be acted upon in real-time.
Logistics companies in Delhi and other metropolises, now aim to move from a standard approach of managing orders and performing logistics activities to a highly advanced digital tech strategy. The key aim to use IoT and mobile technology is to enhance the quality of services, achieve customer satisfaction and improve ROI.
IoT has many digital applications in logistics, transport and fleet management area. It can cover multiple aspects of warehouse and inventory management or vehicles and workforce performance within. Smart Sensors and RFID chips are innovative applications of IoT where logistics providers and Packers and Movers Vadodara trust the use of initiatives.
Understanding the context of IoT in transportation and logistics is of great importance for transport and logistics companies, but do you know, what are these technologies going to look like? Let's discuss IoT applications in transportation, logistics and fleet management that are revolutionizing the industry.
Efficient Fleet Management
The first application of IoT in transportation and logistics is fleet management. Thanks to smart sensors and devices fixed in the transport vehicles that aid to collect information regarding the condition of the vehicle, the current location of the vehicle, driver behavior, and amount of fuel. Transport companies that offer online truck booking services understand that monitoring the condition of essential parts of vehicles like tire pressure, fuel, coolant level, etc. can reduce the chances of unexpected failures. With real-time access to such data makes maintenance quite easier and cost-effective. This kind of advanced fleet management system is used by top logistics companies in Delhi. They created a monitoring system that gathers data from GPS and IoT sensors to reduce the number of repairs.
Warehouse and Inventory Management
Another application of IoT in logistics is Inventory Management System or Warehouse Management System. Using IoT solutions in warehouse management, businesses can improve the complete warehouse performance and workers' productivity. The most important thing to boost warehouse efficiency is to manage the storage space efficiently. With the help of smart systems or warehouse management software, businesses can optimize the storage space and locate the items at the most ideal place.
Installing smart sensors in the warehouse will be very helpful to automatically create orders when there are fewer items left. Even if you have limited space in the warehouse, you can store the items efficiently using smart sensors. Companies often use RFID tags to manage their products and warehouses. These sensors automatically send information to the database when the item has left the storage house.
Freight Safety
Freight theft has been gradually becoming one of the key reasons for losses for freight businesses and logistics companies in Delhi. Solutions such as advanced sensors provide full monitoring for the freight across the transit time and becoming popular among the freight companies. The smart sensors that are used by many freight monitoring systems are equipped to notice changes such as temperature, shock events and crack or break in the freight container which will help in taking immediate action against the freight which is in danger or prone to any damage.
Supply Chain Management
Before the goods reach to its final destination, it undergoes a complete process of shipment. As the millions of products are changing its locations together, it's difficult to handle them efficiently. Here, IoT sensors come in to play. With these smart sensors, the whole shipment process can be much more effective and error-free. IoT solutions in supply chain management can provide real-time data on the location of shipment and identify whether the consignment is delayed.
For a business, it's critical to have access to the goods that are highly demanded and sale quickly. With the quantity of goods being manufactured, ordered and shipped. The whole supply chain process can be optimized to reduce the costs and increase the profit.
Tracking and Tracing
For the logistics companies that offer online transport service, it is important to ensure that the goods are in the right trucks, the safety of goods in the right warehouses, etc. It also takes a huge time as well as resources.
Smart sensors such as AIDC (automatic identification and data capture) and RFID (radio-frequency identification) are helpful techniques to track the shipments and manage them efficiently. Microchips in RFID sensors use radio waves to detect the location of goods. These sensors provide you information not only about what the product is but also, about its location and final destination. The major difference between RFID and traditional scanning is that it is being processed wirelessly. Additionally, data can be moved onto the database in real-time. Thereby, you can access the information anywhere, anytime.
Analytical Maintenance
Machines are the major part of every warehouse and logistic center. That is why predictive or proactive maintenance has become important. Usually, maintenance is planned as per the age of the machinery. But, it has been proven to be an ineffective way as most of the errors occur randomly. One application of IoT is Machine Learning that allows searching for patterns and recurring situations to foresee the issues. It gathers and studies the previous and real-time information and processes them to detect possible errors that can occur in the future. Packers and Movers Vadodara believe that predictive maintenance is the best way of using IoT in logistics. It helps to keep all the systems and devices in healthy and working conditions.
Visibility for in-transit carriers
Cloud-based RFID & GPS systems provide logistics carriers location details that were otherwise impossible to collect. This not only makes the whole supply chain process agile but also proving a better control to the supply chain managers to foresee delivery time and schedule consequently. When you know the accurate location and tentative time of delivery, you can better utilize the team of drivers as well as fleet.
Order and Delivery Tracking
As said above, tracking of goods is extremely important IoT application in logistics. But, it's not only meant for the company's satisfaction but also helps in improving customer service and manage the order and delivery process. With IoT the companies as well as customers can have access to information about their orders in real-time since the moment they bought the product. Moreover, some enterprises use sensors in their products so that customers can automatically reorder the product when there is little of it left in the stock. It is very helpful and convenient for customers as well as for the company.
The Internet of Things we're using today is only a small part of what it's going to be like in the upcoming years. Presently, our main focus is on the implementation of different types of sensors which will aid to manage the whole logistics process efficiently and economically. However, the same devices can be a huge part of autonomous distribution whether it's only within a warehouse or worldwide.
About TruckGuru
TruckGuru is one of the leading transport and logistics companies in Delhi using advanced and reliable software to improve its services. They have developed a mobile app that will provide their customers with real-time data regarding the shipment. With the use of IoT, they are offering the best transport solution to the industry.