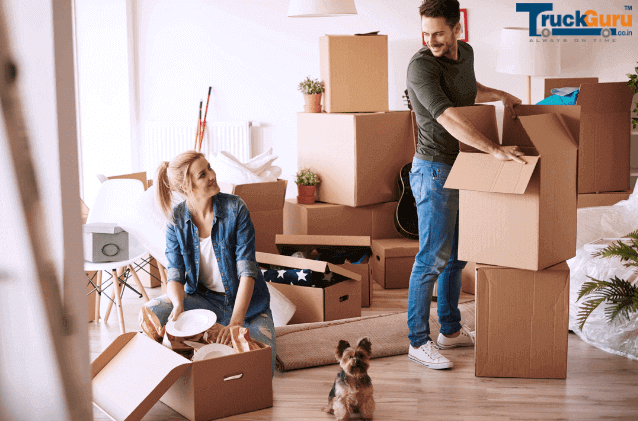 Are you looking for Packers and Movers in Mumbai to shift to a different place? Do you want to know the actual cost to move your office or home to the new city? If so, this blog will help you to find the best and cost-effective Packers and Movers Company in your area.
When you're planning to shift, knowing the cost of moving in advance can be helpful. The cost of your shifting depends on many factors such as the distance of the new place, the size of your home, packing material, storage, etc. To have a smooth and enjoyable moving experience, it is better to call the truck booking professionals who can give you the right estimate for shifting.
How to calculate moving costs?
When you have finally decided to move to a new place, you will come to know the role of Packers and Movers in Mumbai to calculate the cost of your relocation. See how they will calculate –
Factors that affect your cost of shifting-
Size of your move – Packers and Movers in Mumbai or other popular cities calculate the price depending on the weight or size of your goods. So, moving a lot of stuff will not only take longer to complete but increase the cost. In such a situation, the rule of thumb will be applicable: the more stuff you move, the more costly your move will be.
Travel charges – When moving to a long distance, the travel charges will add to the total cost. Companies that offer logistics services will take into account the fuel costs as well as the labor costs for the time your consignment moves from point A to point B.
Packing services – Hiring moving companies from Hyderabad Transport to pack up your stuff could cost you little more. This cost will also add to your total moving expense.
Moving add-ons – If you choose to include any add-on services, the cost of your move will be affected. These add-on services may include disassembling and reassembling furniture, moving delicate items, and winding up the bubble wrap, felt pads, cartons and mattress bags provided by the moving companies.
Storage – In some cases, people choose to hire a moving company that can hold or store all the stuff before, during or after their move. For such services, you need to pay extra. Storage rates change from company to company, so be sure to ask for specifics in advance.
Moving date – Your moving date is as important as how you shift. This is because the particular date of your move can affect the price considerably. For instance, moving on the weekends and/or moving during peak season tend to add on the cost much more than off-season move and a week-day move.
Accountability and valuation coverage – If you're hiring Packers and Movers Bangalore or Mumbai, you'll likely to buy some type of liability coverage. Most moving agencies offer multiple levels of protection such as Full Value Protection and Basic Release Value Protection. Keep in mind that you may have to buy additional moving insurance from a third-party provider for a safe relocation.
Professional packaging – The role of Packers and Mover in Mumbai is very important to transport your goods safely and damage-free. They offer professional packing services using high-quality material such as bubble wrap, cartons and wooden boxes. They pack the fragile items in such a way that they won't get a single scratch during the move. These services are especially recommended for long-distance moves or moves that require warehouse storage, but it's not that this is not applicable to short-distance moves.
Special items – Preparing special items for your move may involve an additional moving expense. Items such as pool tables, pianos, safes, and art pieces may be flagged with an extra charge to protect them completely during the move. Appliances such as refrigerator, washing machine, air conditioner, etc. also need extra care which means it will also increase the total cost.
How can you reduce your shifting charges?
When you move, the moving date can make a big difference in the overall cost of your relocation. Thus, it is advisable to choose the date like a mid-month or a week-day move. If you have the flexibility of dates, call the Packers and Movers in Mumbai at the time when demand for moving companies is lowest. It will aid you to lower the cost to some extent.
Keep in mind that more people decide to move during the summer; roughly 70% of moves take place in the summer months. So, if possible, plan to move during the off-season.
Apart from this, you should also ask for quotes from multiple Packer and Movers in Hyderabad Transport. Before finalizing a moving company, be sure to ask around for the best price. Ideally, you should get a quotation from at least 3-4 moving companies. Professional moving agencies conduct either a video survey or an in-person inspection of your belongings before giving you the final quotation. Don't consider the quotes that you get over the internet. For the most accurate quote, make sure that the moving or truck booking company is aware of any special items that need extra care.
Why you should hire TruckGuru's Packing and Moving services?
TruckGuru is a leading name in the packing and moving industry. They use an advanced cost calculator tool to estimate the total cost of the move. This reliable and easy-to-use tool provides users with an accurate estimate for how much a move will cost, depending on a number of factors.
If you are looking for a professional Packers and Movers in Mumbai, hire TruckGuru and receive free quotes from them. Their team will come to inspect the stuff you wish to move and will ask for your preferences such as choice of packing material, moving date, delivery time, insurance coverage, storage and add-on services. They will prepare the final quote depending on these factors. TruckGuru doesn't keep you in dark when it comes to the addition charges. They will explain each and every cost involved in the quotation.