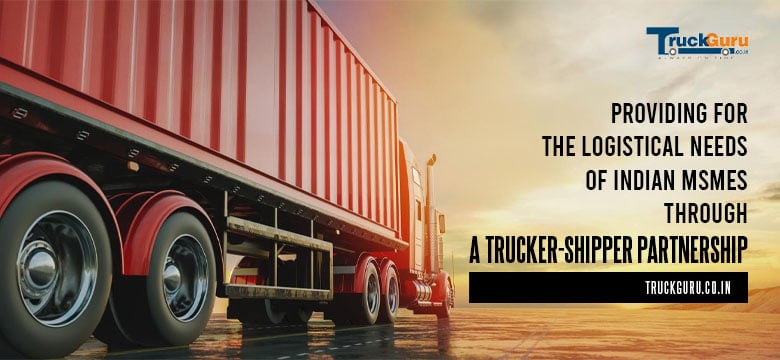 For freight operations to be efficient and successful, a solid working relationship between carriers and shippers is essential. Together, shippers and carriers may create a mutually advantageous collaboration that will steadily increase the effectiveness of logistics and the level of customer service. In order to meet the logistical demands of Indian MSMEs, this partnership is urgently required.
Shippers are responsible for timely and accurate carrier payment, swift claim resolution, effective use of driver time, and frequent load fulfilment in order for the process to run well. Additionally, carriers must deal honestly, follow routing guide compliance, properly and promptly charge shippers, and consistently deliver great service. Companies should continue to establish trust by being dependable, respectful, and loyal.
By recording all transactional data, contemporary technologies play a crucial part in managing the connection between the shipper and the carrier. Accountability and improvement may be achieved using the data and analytics that are gathered. Additionally, shippers' and carriers' conversations and interactions may be tracked and verified using accurate and fast data.
The carriers and shippers should concentrate on mutually advantageous agreements while meeting the logistical demands of Indian MSMEs in order to operate efficiently amid unstable economic and market situations. The contemporary supply chain logistics network would greatly benefit from enhanced interactions and partnerships between shippers and carriers. Avail Chennai To Bangalore Transport Service from TruckGuru.
Real-Time Communications And Data
The relationship between the shipper and the career needs a comprehensive understanding of their performance for improved efficiency and results. It also relies on how they compare to the opposition in terms of teamwork, adaptability, and scalability. Both parties should create, measure, and assess an improvement strategy over time. Carriers and shippers may establish and maintain win-win cooperation by monitoring performance metrics. The carrier-shipper relationship is left in limbo in the absence of effective communication.
Follow Through On Commitments
You must honour and uphold your obligations to your carriers if you expect them to keep their promises. Carriers base their rates on the data and specifics that logistics companies offer. Inaccurate data sharing or failing to ship in the lanes and tonnages you agree to might result in the renegotiation and switching carriers earlier than you anticipated.
A Better Understanding Of Needs During Contract Negotiations
A good shipper-carrier relationship depends heavily on shared trust and understanding. When shippers and carriers can rely on one another, teamwork is easy, and contract discussions are simple and lead to a win-win outcome. Additionally, team members find it simpler to assist one another, persevere through tough times, and organise themselves for market and demand peaks.
Shared Opportunities
Present and discuss any new prospects with your partner company first whenever they occur. If you can reach a fair deal, everyone will benefit. A seamless transition and time savings benefit you while increasing your business benefits the carrier.
Treat Drivers Well
Making your facility more carrier-friendly can help fleet owners keep drivers, which lowers their operating costs and allows them to save money. A dependable driver will be more familiar with your company's operations and policies, carry out pickup and delivery tasks more effectively, and contribute to better service overall.
Shipper-Of-Choice And Carrier-Of-Choice Status
By maintaining their word and upholding contracts and agreements, logistics companies should work to earn the trust of their carrier partners. Contract renegotiation may result from rescinding established obligations under current agreements, further straining the partnership. Securing shipper of choice and carrier of choice status may assist management teams of all sizes and throughout a wide variety of sectors and specialist markets to gain contracts and improve collaborations.
Better Planning
Give the carriers time to prepare their systems and receive training before beginning a new partnership so they can handle the new channels and freight. If you don't, the relationship might have a pricey and rough beginning.
Communicate
Meetings between shippers and carriers should be held to discuss performance metrics, new services, and possibilities, as well as to improve the partnership. Discussions on high-cost drivers, duty hours, and work-life balance should be on the agenda of review meetings so that initiatives may be put in place that lower costs rather than increase rates. Working together prior to renegotiation will significantly strengthen and improve shipper-carrier cooperation.
Embracing Technology
As a shipper, you anticipate receiving real-time information from your carriers on the location of your cargo, the estimated time of delivery, and any issues that could occur. Carriers carry out their responsibilities honestly in order to put equipment into place that enables this kind of real-time tracking, but such technology is expensive. You should be prepared to adopt and deploy technology that permits precise data transport without burdening your carrier in return. The carrier will value your efforts as well, and as an added benefit, using this technology in your company will reduce the amount of physical labour you need to perform.
Monitor Interactions
The shipper is responsible for giving correct information and treating the consumers with respect. The greatest method to guarantee that the shipper/carrier partnership is solid and supportive, which lowers costs, improves customer relations, and enhances service, is to maintain a good connection at all organisational levels.
With the appropriate approach, you may realise the potential advantages of the improved shipper and carrier interactions. In the current transportation and shipping sector, building excellent connections between shippers and carriers is a top priority for logistics management. A strong working relationship between the shipper and the carrier offers beneficial advantages that immediately benefit both parties. On the other side, any conflict between the shipper and the carrier may cause delays that damage and sour customer relationships and reduce bottom-line earnings. Avail Bangalore Transport online only at the website of TruckGuru. Please visit and explore!