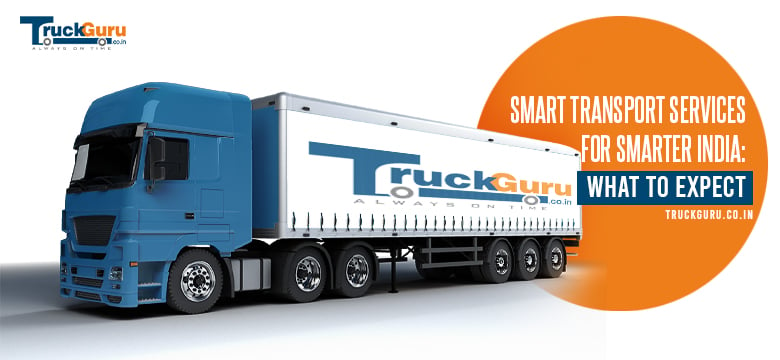 The way industries operate today has transformed because of constant advances in technological innovation. Industrial change is occurring at an unprecedented rate because of technology. The road is being opened for higher efficiency via automation. The industry of transportation services is undergoing huge changes as a result.
Connecting clients and drivers of Transport Services are mostly made possible by technology. Additionally, there has been a noticeable rise in production. In addition, technology aids in lowering costs and mistakes in the supply chain. To acquire a competitive edge in the market for transport services, today's logistics businesses are using cutting-edge innovations, including fleet management, cloud-based computing, and shipment tracking technologies.
Adoption of Technology by Logistic Services Providers in India
The logistics sector used to be infamous for its delays and lack of predictability. Logistics as a sector has a direct impact on economic expansion. Therefore, inefficiencies are certain to have a negative effect. The good news is that technology can now address these inefficiencies in transportation services.
The following are some potential solutions to the problems facing the transport and logistics sectors:
Ensuring That The Consignment Is Completely Visible Throughout The Supply Chain
When offering Transport Services, complete visibility ensures that service providers know the shipment's status from start to finish. Total consignment visibility is feasible with the implementation of cutting-edge technology. For instance, the TruckGuru app supports complete transparency and displays transportation status. This makes it simple for carriers to check on the status of shipments!
Another fantastic instance is when businesses can monitor the efficiency of moving trucks thanks to GPS installation. A logistics and transportation service provider may track shipments in real-time in this fashion. In the event of difficulties during travel, businesses can also fix them or find alternatives.
Tracking based on milestone
Consignments or shipments may now be tracked in real-time thanks to AI, machine learning, the IoT, and data analytics. Providers of logistics services assist businesses in gaining access to milestone-based tracking through specific client portals. Businesses may track consignment information, including the set delivery date, as it moves from one hub to another. The key benefits of milestone-based monitoring in the transportation industry are improved supply chain control and firmer collaboration.
Optimizing dispatch routes
The most economical path is determined using route optimization. As you may already be aware, Procure Logistics Service include more than just determining the distance between collection and delivery. The quickest and most economical path for a journey is determined using sophisticated route management algorithms. In the long run, this optimization is advantageous for the Transport Services sector in terms of cost, labour, and time savings.
Virtual transactions
Widespread digitization has made contactless logistics possible. Key documentation like truck receipts and proofs of delivery are now automatically generated. Virtual gasoline cards have been created, particularly for the transportation industry. As a result, financial transactions are now more transparent. The e-toll system has successfully eradicated cash-based transactions. Additionally, the widespread use of electronic wallets, UPI-based payments, and online banking in Transport Services has changed the game.
System Integration And Geo-Fencing
The location-based service is known as geo-fencing. It designates a certain region or establishes a fictitious border. Every time there is movement inside the geo-fence, this service notifies the logistics business. The notifications that have been received in the form of alerts are milestone-based. The geo-fence may contain several touchpoints, including driver residences, corporate headquarters, client warehouses, etc. Geofencing's main purpose is to assist the business in tracking the precise movements of the vehicles used in the transportation services industry.
The client's office, warehouse, and the car may all connect online to a single database thanks to system integration. Real-time information interchange is made easier by it. Many systems make it simple to retrieve this data. The transportation sector made an effort to be as inventive as possible to address the challenging scenario even during the second wave of COVID-19. For this, they combined drones with technology to improve back-end networks. These programs aided in streamlining the logistics and Transport Services In Hyderabad.
Vehicles with connections would offer seamless integration between various electronic systems, including control, safety, and navigation features. Through the Internet of Things (IoT), the car would continue to be connected to external systems. The Smart Cities Mission relies heavily on the Intelligent Transport System (ITP). It implies that the system would also cover freight vehicles. Automated speed enforcement, electronic toll collection, vehicle control technology, etc., are some of ITP's features.
In the transport services sector, an electronic toll collection is viewed as a game-changer in the quick passage of consignments. RFID is used in the toll-collecting system (Radio Frequency Identification). The mechanism subtracts the toll at each entrance after reading a distance away. This technique reduces the need for gasoline and delays at toll gates.
Optimizing trip length and the number of trips a freight truck makes would be a component of smart transport in the transportation services industry. Improving the infrastructure will also aid in reducing the emissions caused by freight transit.
In a smarter India, widespread technology use in all areas is inevitable. This industry is not an exception. Modern startups are supported by state-of-the-art technology. It supports agility for ongoing innovation and client-centricity. Higher efficiency at cheaper costs is the result. Companies that provide transportation services may seek new business prospects due to such growth. Customers gain a lot of advantages from the digitization of transportation services.
Customers may, for instance, follow their shipments in real time. Errors are less likely when activities are tracked and streamlined like this. Imagine the following scenario: in the not-too-distant future, robotic procedures may completely automate the logistics and transportation services sector.
Please visit the website of TruckGuru and download the TruckGuru App right away!