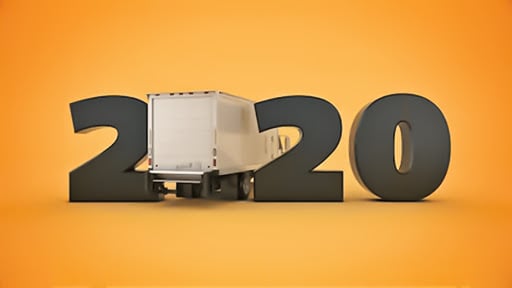 In the recent few years, logistics and transportation has undergone several critical transformations as the latest technologies offer opportunities to manage the movement and warehousing of goods more efficiently. In today's digital transformation era, logistics is once again experiencing a major transformation. Advanced logistics technologies like drones boost last-mile delivery capabilities whereas robotic warehouse systems turn automation into a reality. Top vehicle transport services in Vadodara use tools like RFID tags enhances visibility throughout the supply chain and get help in vehicle tracking.
As said above, emerging technological solutions have revolutionized the logistics sector. The year 2020 will witness completely transformed logistics and transport sector which will focus more on B2B. Have a closer look at the top ten logistics trends for 2020.
Cybersecurity will be improved!
With an increasing number of businesses switching to the digital landscape, cybercriminals are also becoming experts at finding new targets of all types. Logistics companies in Mumbai and other cities are better preparing to save themselves to be hacked because it has happened earlier to other logistics companies.
However, the fact is that most cybercrimes planned within the company. Such activities are typically caused by internal employees' weaknesses. Most of the people believe that these vulnerabilities are mostly caused by dissatisfied employees, but it's not that…the actual reason is some employees who aren't following a well-designed Cyber Protocol. With such a scenario in mind, a proactive approach to cybersecurity starts with the realization that how much data access do the employees have and creating a set of instructions and procedures to handle critical data.
Service chains will become more significant than product chains in 2020!
In most of the business sectors today, a great product is treated as the table stakes just to play the game. More and more, sensitive consumers are demanding more from pre and post-sales services for the products they purchase.
Consequently, businesses that effectively combine the post and pre-sales service supply chain operations incorporating product knowledge, warranties, in-store service, responsive consumer services, etc. will evolve as the winners over their exclusively product-focused rivals.
That message was highlighted by Tim Cook, Apple CEO in his latest apology to customers in China for the company's apparent failure to listen to the feedback regarding the post-sales service. This was the best instance of a company with many innovative products in the market overlooking that the consumer is still very important.
IoT collaborative robots and logistics automation!
Systematizing warehouses and order fulfillment with computers or robots is not easy, but most logistics companies in Hyderabad transport are looking to use them to streamline the process because the consumers are forcing to implement more innovative and advanced logistics methods.
The increase in e-commerce business needs logistics providers to operate quickly and efficiently to simplify small yet individual orders. This, along with labor unavailability means that robotics and digitization are becoming a necessity in the logistics world. With almost 80% of warehouses being physically operated, making the use of collaborative robots is a way of making things more accurate, flexible, and affordable for all the parties involved.
Seamless globalization of supply chain knowledge work!
In supply chains, knowledge work today accounts for nearly 40% of the total work hours spent. Much of this work hours are devoted to planning, complex analytic, provision of services and procurement processing. This type of work, the requirement for multi-language support, and the related local difficulties of the different geographies being served will impose the smooth globalization of supply chain knowledge work.
For instance, you could see a U.S. based company performing supply chain planning in the Philippines, operating procurement centers of excellence in Singapore, and organizing global business analytics in Brazil.
Enhanced last-mile deliveries!
For logistics professionals, last-mile logistics has become a hot topic because of the increasing demand for goods. With these ever-rising requirements, both logistics professionals and retailers need to evaluate the abilities and make adjustments. Last-mile deliveries are part of that commotion because they allow the consumers to buy the products with confidence that their order will arrive at the destination on-time, especially in locations where outdated transportation practices are not successful.
Artificial intelligence (AI) will greatly impact logistics in 2020!
Supply chain management using AI will continue to refine in 2020. Companies offering transport services in Vadodara understand that AI in logistics customer support plays an important role to reach more customers in 2020. Innovations in the computer are behind self-driving vehicles and though self-driving trucks may be five-ten years off from typical adoption, there will be other noticeable impacts. Artificial Intelligence will be able to review a room or area and make an accurate inventory in a few seconds, involving volumes & weights, and conclude damage on items. These innovations are accelerating thanks to advanced tools that were created in 2018-19.
The digital revolution in 2020!
From faster deliveries to more viable ways of transportation, matching automation and big data efforts will ensure the exponential growth in the business sector. More precisely, the synchronization will develop a foundation on which AI finally gets a real chance. However, there is an ample positivity regarding the advantages of AI the logistics industry will enjoy in the future, provided logistic managers start gathering and understanding the data required to innovate.
In 2020, collecting unique data will be more important for logistic companies in Mumbai. Data-driven decision making won't be an axiom anymore, but something that materializes on a weekly basis (if not daily). The logistics sector will realize the potential of the transport companies and are going to exploit it. For consumers, this means, they will get their packages faster and they might be happy to pay for it.
The use of mobile apps will be the latest trend in the logistics industry!
Pulling the reports many times a day can be tiresome and leads to performance not being observed in real-time. Consequently, logistics managers are uninformed about the changing conditions that impact capacity as well as access. Mobile apps can quickly and accurately generate reports and monitor the performance metrics. They can provide notifications and alerts of key information, driving action for shareholders of data solutions.
Electronic Log Devices (ELDs) to make roads safer for drivers!
In 2020, Electronic Log Devices may have a significant impact on the logistics sector. Intended to hold drivers to the maximum 50 hours of service (HOS) per week, along with 2 days off, these ELDs can make roads safer by inspiring drivers to rest enough. Although, transporters in Hyderabad transport with ELDs may no longer send as much cargo as they used to. Besides, the cost of these ELDs will be combined with the total price of services. By 2020, transportation companies that pull loads by trucks have to implement ELDs for the smoother transportation process.
Blockchain continues to be the top trends in transportation in 2020!
One of the viewpoint use cases for Blockchain Technology in trucking business is ensuring the accuracy and efficiency of performance history records. When a truck used for transportation is sold for the second time, potential buyers of the truck may have questions like how this vehicle was used. As Blockchain transactions are incontrovertible and transparent, all parties or companies involved in a transaction can be sure that the information or record about the truck is reliable.
Capacity monitoring is another major perspective to use Blockchain in transportation. The transportation cost depends on cargo volume. Internet-of-things (IoT) sensors when used can help to determine the amount of space a particular shipment consumes. This data can also be used to calculate the shipment cost.
Self-driving trucks will be the latest trend!
The self-driving trucks technology is still improving to overcome certain issues like improving driverless software to make it able to proficiently drive on city roads with heavy traffic. However, it will be the top trends in transportation in the coming year. In the long-term perception, companies offering transportation services in Vadodara should start to prepare for upcoming technology modifying within the industry and also, begin preparing their trucks with self-navigating systems that can learn from real drivers.
Due to artificial intelligence (AI) and numerous sensors, an AI-enabled truck can accurately determine the road conditions and absorb how truck drivers need to behave under unusual conditions on the road. Additionally, with vehicle-to-vehicle (V2V) communication, vehicles can share the information and make other trucks smarter. These vehicles can potentially become better drivers than a human operator in the long-run.
With the increased expenses on (auto parts service, fuel, etc.), transportation companies should use advanced methods and strategies to improve their productivity and mobility. For the same purpose, they should be ready to invest in equipping their fleet with smart sensors. TruckGuru, one of the leading vehicle transport companies in Vadodara deploying modern technologies that facilitate deliveries. TruckGuru has been working in the logistics industry for about ten years and they have developed an advanced mobile app and web portal for cargo transportation businesses. They know how to make your deliveries quick, efficient and cost-effective.