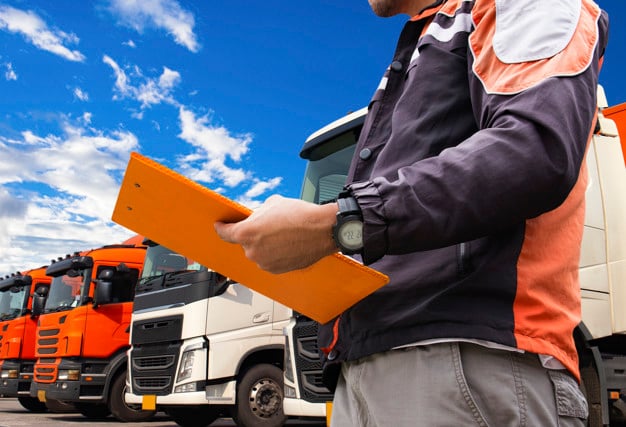 Logistics company whether small or large, must follow strict industry standards when it comes to hiring new commercial drivers because it ensures the secured transportation system. Having professional and experienced truck drivers on board helps in offering a hassle-free and smooth logistics operations.
Top logistics company in India ensures that they appoint highly qualified and reliable truck drivers and transportation employees by conducting a comprehensive background screening on every candidate. Transport companies need to balance safety as well as the legal requirements by appointing new drivers quickly. Transportation background checks and screening of the applicants help companies to know candidate has the right skills for the job. For instance, running the motor vehicle records check reveals whether the applicant is trained and hasa license legally needed to drive a semi-truck. Screening applicants not only show their necessary skills but also keep your business legally compliant.
Truckers with a history of rash driving can seriously harm other people, that is why it is also important for logistics companies to hire drivers after a comprehensive background verification. Lives of many innocent people can be saved if the trucking company researches his driving record. If the applicant has any history of driving-related offenses, the background check will reveal that. Making an informed decision while hiring also protects online logistics company from negligent-hiring charges. After verifying applicant's records businesses don't just have to guess whether he is safe to have around your clients, fleet and machinery, instead, they will be sure.
Untrained and unsafe drivers can also lead your company to shut down if they ignore legal standards like not following traffic rules, over speeding, driving without the right type of license etc. The right background checks and proper screening protect you and your logistics business from the painful issues untrained drivers cause.
When it comes to truck driver hiring, check the applicants for some important skills, background, certifications and other abilities. Check below-
Background checks and screens
The transportation sector is highly controlled by state and federal departments of transport which need background checks and screenings for any truck driver hiring. These processes will typically involve such things as-
Employment history search is performed by verifying the driver's 3-year previous employment records as needed by FMCSA.
Pre-employment screening in which driver records are obtained through FMCSA's PSP report. The report reveals the most recent 5-years of crash data (DOT recordable accidents) and 3 years of roadside inspection.
The records of the particular candidate are searched in National and County Criminal History Searches to identify whether he has a criminal history.
Drug/Alcohol Violation History Verifications is done by obtaining a three-year drug/alcohol violation history as needed by DOT 49 CFR Part 40.
Check for sex criminal status. A registered sex offender is not safe to hire for your logistics company in India.
Records on driver safety, health and working conditions recorded by FMCSA (The Federal Motor Carrier Safety Administration) and the NIOSH (National Institute for Occupational Safety and Health).
Truck driver licenses and technical certifications
A commercial drivers' license (CDL) is an important state-issued license. For license, renewal periods and conditions vary from state to state. The "Class A CDL" signifies that the license is issued fora driver who can drive a vehicle with automatic steering. For handling different types of hazardous materials and different types of steering systems, special types of licenses are needed. Candidates need to have the right type of license for driving different types of trucks. The license must be valid. Also, it shouldn't be suspended, cancelled, or have other severe restrictions.
A great blend of truck drivers
Why a transport company would want to have diversity in their drivers? There are ample good reasonsfor hiring drivers with different skills. It offers many benefits to the company. See how the following groups could be helpful in your business-
Experts-Drivers with years of experience are often specialized at driving large vehicles. They have the necessary skills and training in their domain. As they have rich experience, they are adept at learning new and advanced mechanical systems.
Experts-Drivers with years of experience are often specialized at driving large vehicles. They have the necessary skills and training in their domain. As they have rich experience, they are adept at learning new and advanced mechanical systems.
Early retired person-This category belongs to drivers who may be looking for a part-time job that specifically is not a type of management or a desk job. These applicants also may have well -developed technical skills and maybe more expert at offering better customer service along their routes.
Women-Traditionally, the truck driving industry has not had large numbers of women drivers but now, it is gradually changing. Hiring women candidates for driver's position not only expand your amazing team of applicants, but it may also increase the safety as some statistics and data revealed that female drivers are associated with fewer avoidable accidents compared to men.
Legal migrants-Hiring legal immigrants who are comfortable in speaking and understanding a second language may help transport the firm to communicate better with some of its consumers and the public at large.
Tip from experts
President of Women in Trucking, Ellen voice support women in all aspects of transportation. She has found that for women who want to merge back into a career after staying at home, local driving can be a good career option. She advises an online logistics company to make it clear by mentioning women drivers in job descriptions. Additionally, women managers can also be included in the hiring process.
Key skills
When you're hiring candidates for drivers' position, there are certain skills, you must look for in them.Be sure to inquire about this during the interview process. These skills include-
Willingness to follow all traffic regulations and rules
Patience and diplomacy
Shared communication skills with schedulers and dispatcher Flexibility (especially when navigating erratic traffic conditions)
Essential math skills calculating bills of lading
Understanding customer documentation
Consistency and honesty in maintainingreports and logs
Ability to handle communication, GPS and other monitoring technologies
Interviewing truck drivers
When it comes to interviewing an applicant for truck driver vacancy, logistics employers sometimes ask questions that may not be legal. Employers themselves don't take these interviews seriously. They should consider using an interview to prepare a question list. Few factors are mentioned below which will help the employer when interviewing local truck drivers-
Reliability is an essential factor. If you are interviewing fresh drivers, ask them how they have managed to stay on schedule with their earlier jobs. For experienced candidates, ask how they handled schedule-derailing difficulties on the road.
Ask them what they know about your company and how will they define your company's reputation with customers.
Ask them how will they handle vehicle accidents. Ask experienced candidates how they've managed vehicle accidents in the past.
When recruiting truck drivers, employers may offer opportunities for career advancement. The trucking company could offer specialty experience or hands-on training to widen an employee's skill base. For example, you can allow them to learn how to operate a dump truck. A company can ask the candidate to do specific assignments on their route. Employers may also want to keep the candidate for related jobs such as trainers, dispatchers or schedulers.
The top performance of the employees should be achieved with their choice of routes and schedules. So, the best logistics company in India should be rewarded their senior employees with desired routes and schedules. Providing additional training and skills development programs to drivers means that you're investing in their professional future which will helpful to you as well.
Turn to recruitment agencies for hiring truck drivers
Finding local truck drivers for your business is not an easy task. With a small team of qualified applicants, you may feel like you have very limited options. However, it could be that you have not got the right places to look yet. Prominent recruiting agencies can be very helpful. They will do everything on your behalf like interviewing the right candidate, background check, screening, police verification etc. Check out various hiring agencies websites to know the latest trends in truck driver hiring, recruiting advice and more.
We all should be agree to the fact that truck drivers are the most critical players and inthe backbone of the transport sector. The truck driver's job is challenging due to unpredictable nature. With the long hour schedule, their job is very tiring. They stay away from their families for long durations at a stretch. They should be encouraged by offering them job security, health insurance and safety. If we make certain changes in their schedule like a choice for working hours or routes, the trucking industry won't face the shortage of drivers which is otherwise growing day by day in the country.
TruckGuru, a leading online logistics company is committed to offer the most favorable working conditions to its truck drivers and other team members. They ensure that they hire the candidates after a background check and screening so that they won't face any legal issues in the future.