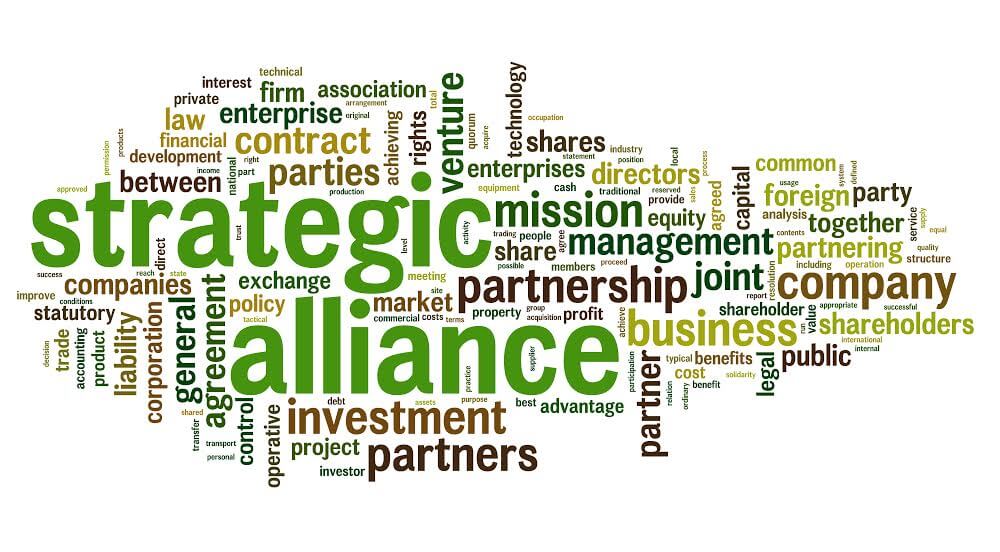 The strategic alliance is nothing but a relationship between two or more parties that enables them to do business together by sharing marketing and technological resources and achieve combined strategic goals. Hyderabad transport firms believe that the strategic associates maintain their status as separate and independent entities, share the profits and control over the alliance, and keep on contributing to the partnership until it is ended. Usually, strategic alliances are developed in the international marketplace among companies that are based in different regions of the globe.
Global strategic alliance cost is typically shared rightly between the organizations involved and usually the least expensive to form an association. On the other hand, acquisition delivers a quick start in utilizing an overseas market but likely to be a much more costly task for the purchasing company. A global strategic relationship works well to expand the business and utilizing existing global markets. An acquisition works well for immediate access to new geographic regions.
Logistics companies in Delhi clearly understand the importance of the strategic business alliance and they will be adopting this trend in the future. Strategic business alliance serves as a means for both companies to improve their brand awareness as well as the capital, without spending extra time or experiencing major financial impact. Before pursuing a business partnership, the providers of the best logistics services in Delhi, franchisors should understand and recognize businesses that provide different, yet additional services from their own contract system, but serve up a similar market.
Before making a strategic alliance with the party, you need to keep one of the most important things in your mind, that is to tell what you can do for the strong partnership instead of asking what they can do for you. After understanding a potential business which can add value to your franchise to tap into a new market, the company must clearly discover what it delivers on the table.
How will the partner gain value from the partnership with your firm? The key point to remember about a strategic association is that it will be mutually favorable. If both companies are not benefitting from the partnership, it will fade away over time, resulting in a spoiled business relationship.
Once the company has recognized the party with whom it can build an equally beneficial partnership, it will be ready to develop a relationship with the representatives and make a healthy alliance. If the logistics companies in Hyderabad transport want to grow and expand their franchise, strategic business alliances can be extremely beneficial to provide the opportunities to improve the exposure of your brand through the partner's channels, as well as the potential to deliver supplementary services to existing ones.
Benefits of Strategic Alliances
Strategic alliances usually provide benefits to all the parties in the alliance. These benefits can be divided into four different categories.
Economic Benefits – The costs and risks in the business can be reduced by distributing them across the parties of the alliance. You can also get higher economies of scale in the business alliance, as the production volume can rise, resulting to reduce the cost per unit. Thus, the logistics companies in Delhi and their partners can take benefit of co-specialization. All the parties in the alliance can use their specializations together to create additional value, for instance, a leading computer manufacturer can bundle up its desktop with a monitor of the top manufacturer.
Organizational Benefits – The companies offering the best logistics services in Delhi may wish to establish a strategic alliance to learn necessary skills and achieve certain capabilities from their strategic partner. They may aid you to boost your productive capacity, deliver a distribution system, or enhance your supply chain. The parties in a strategic alliance can create synergy by using their skills and capabilities to improve the services they provide. If you are new in a certain industry, having a strategic partner who is experienced and respected will add credibility to your venture.
Strategic Benefits – Hyderabad transport companies may join their rivals to cooperate and help instead of competing. The companies can also develop alliances to make vertical integration where their partners are part of their supply chain. Strategic alliances among the parties may also be beneficial to create a competitive advantage by the combining skills, talents and resources. It will also offer future business opportunities to develop new products and technologies. To get access to the latest technologies or pursue combined research and development, a strategic alliance can be useful.
Political Benefits – If you want to enter the foreign market, sometimes you need to develop a strategic alliance with a local foreign business party either due to local intolerance or legal barriers to get entry. Establishing strategic alliances with politically-powerful partners may also aid to improve your own position as well as reputation.
Strategic Alliance Challenges
Strategic alliances undoubtedly have some built-in challenges. Maybe the primary drawback is the fact that the party which manages all of its business internally must now rely on a second partner.
A clash of corporate cultures or the lack of independence perhaps is the major challenge in the number of alliances. Furthermore, the companies may withdraw themselves from future business opportunities with the rivals of their strategic partner.
Strategic alliances have their own risks and challenges, particularly if the parties are not economically equal. These risks involve the loss of operational power and secrecy of proprietary information and technology.
If you don't have a cautiously examined contractual agreement, there is no surety that the alliance will be beneficial for you, or that you will receive as much as you provide in terms of referrals.
About TruckGuru
TruckGuru is one of the most leading and reputed logistics company in Delhi. They are offering their world-class, innovative and cost-effective logistics and transport services to its domestics as well as international clients. They are working in the logistics industry for more than a decade. The best part about their services is that they understand clients' exact transport needs and offer them the tailored solution to suit their requirements as well as expectations. So, whenever you want to relocate, contact TruckGuru.